This is Part 2 of my recent kayak adventure exploring Washington + Alaska. Check out Part 1 here.
Hi friends! My apologies this post is a bit delayed. I've been crazy busy helping Tahoe University get off the ground (more on that soon!) and it's been nice to be present here in Truckee, especially during these gorgeous summer days. That being said, I find myself often thinking about and missing Alaska, and the women I shared it with last month. I have the amazing fortune to travel pretty frequently, but every so often there's a trip that comes along that truly stands out and is just *that* epic.
My week kayaking, camping and exploring through Alaska was one of the most memorable experiences I've ever had.
While we didn't see any orcas in Alaska (thankfully having seen a pod in Washington), it truly was the trip of a lifetime. I mean, kayaking next to icebergs six stories tall that turn and shift unpredictably, making the experience altogether rather dangerous, combined with the sun not really setting at night (hello four hour golden hour!)... let's just say if you haven't been to Alaska yet, plan a trip right now.
Here's how I did it:
Anchorage
Anchorage is like most cities: there are nice parts; there are not-so-nice parts. There's great pizza. There's also an REI full of concerned employees who will try and sell you every piece of protective gear you may or may not need when you inform them what you're about to go do... at one point, the entire store was offering us advice on how to scare away grizzlies. It was POURING while we were there. And yes, I was wearing Tevas, but couldn't bring myself to change out of them because they just seemed too perfect for Alaska! We grabbed a rental car (the ultimate mom car: a Camry) and headed down the infamous Seward Highway for Seward, a breathtaking drive that takes about two hours. Despite the rain, this road trip was one of the most memorable parts of the entire experience.
Seward
Seward is a small, bike-friendly seaport town: a stopping point for many cruise ships. It's filled with great restaurants, friendly locals (all of whom seemed to be involved in the fishing industry in one form or another), and most importantly: a gateway to the jaw-dropping Kenai Peninsula. After spending a night in the most charming little Airbnb downtown, we hopped on a water taxi (shoutout to Captain Louis!) which dropped us off in the middle of nowhere. We truly did not know what we were getting into as we had booked our kayaks online with Backcountry Safaris. A representative ("Ron") was our only connection, a figure who had become infamous to us after many broken voicemails and questionable communication. Sure enough, Ron, his small boat and intern ("Grant") were waiting for us to take us to our campsite. Ron could not have been more, well, Alaskan: with his long white hair, friendly grin and broken down boat, Ron is essentially a hermit who spends half his time living off the land and renting out his kayaks. He took us to our own island (literally) then left us to fend for ourselves. "Holler if you see a bear, I'll probably hear you!" was the last thing we heard as his boat puttered away into the unknown.
Bear Glacier
There are so many of us on this planet; most of my favorite remote hiking and camping destinations are beginning to swell with people and fellow adventure-seekers in busy seasons. Bear Glacier isn't like that. Devoid of humans and overflowing with untamed natural beauty, I couldn't get enough. Swatting away mosquitos, Victoria, Natalie and myself eagerly set up our tents and then climbed into our kayaks for the most magical golden hour paddle I could have ever envisioned. We found ourselves in a bay, fed both by the ocean and the melting glaciers nearby. Icebergs, both as large as my street and small as my television, floating lazily by. Like the popular girl in school, they were unconcerned and gorgeous. Camping here was easily the highlight of the entire trip. We laid awake at night listening to the icebergs thunderously crash into one another while staring up into the starless Alaskan summer sky. And the photos? Well, that was the easy part.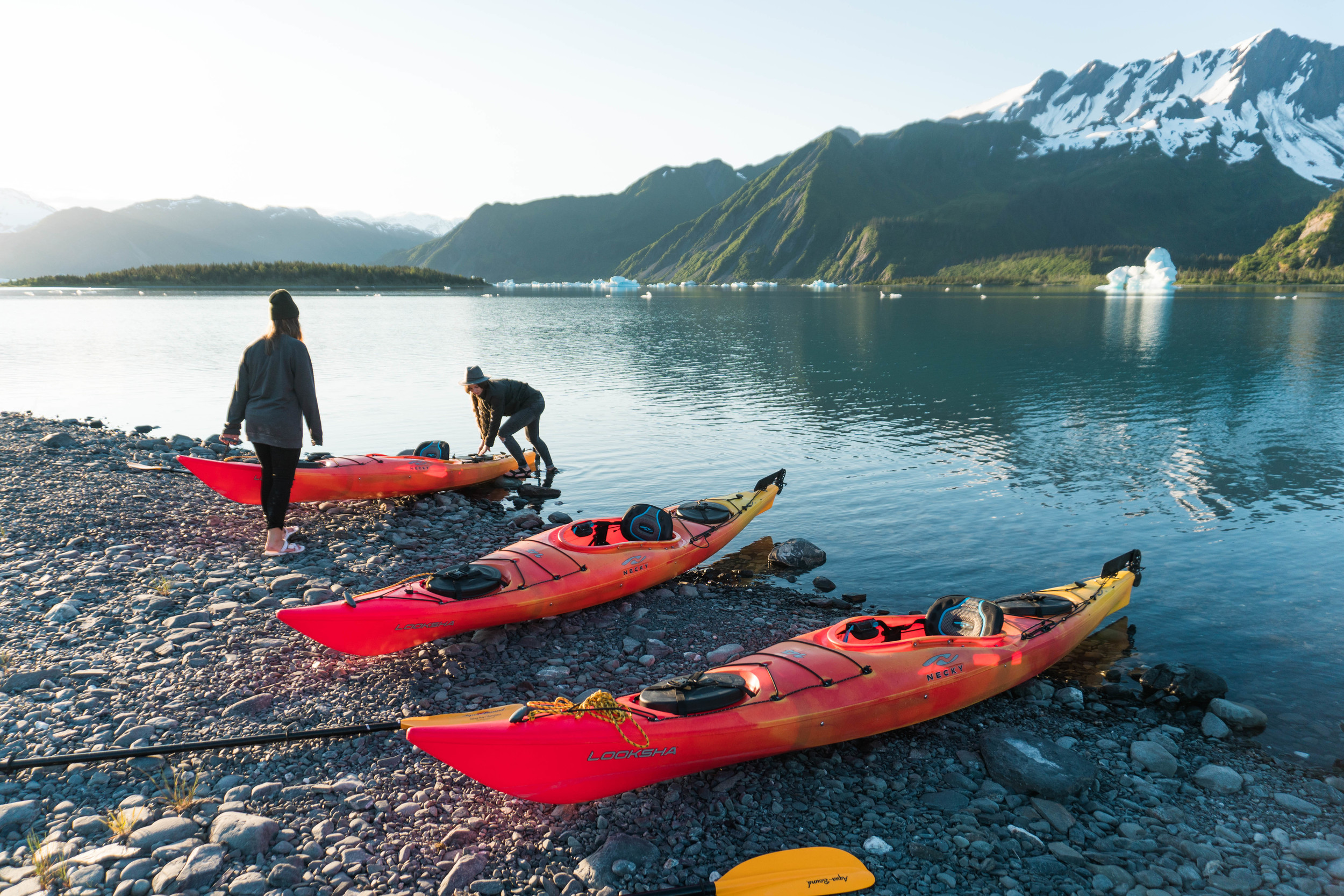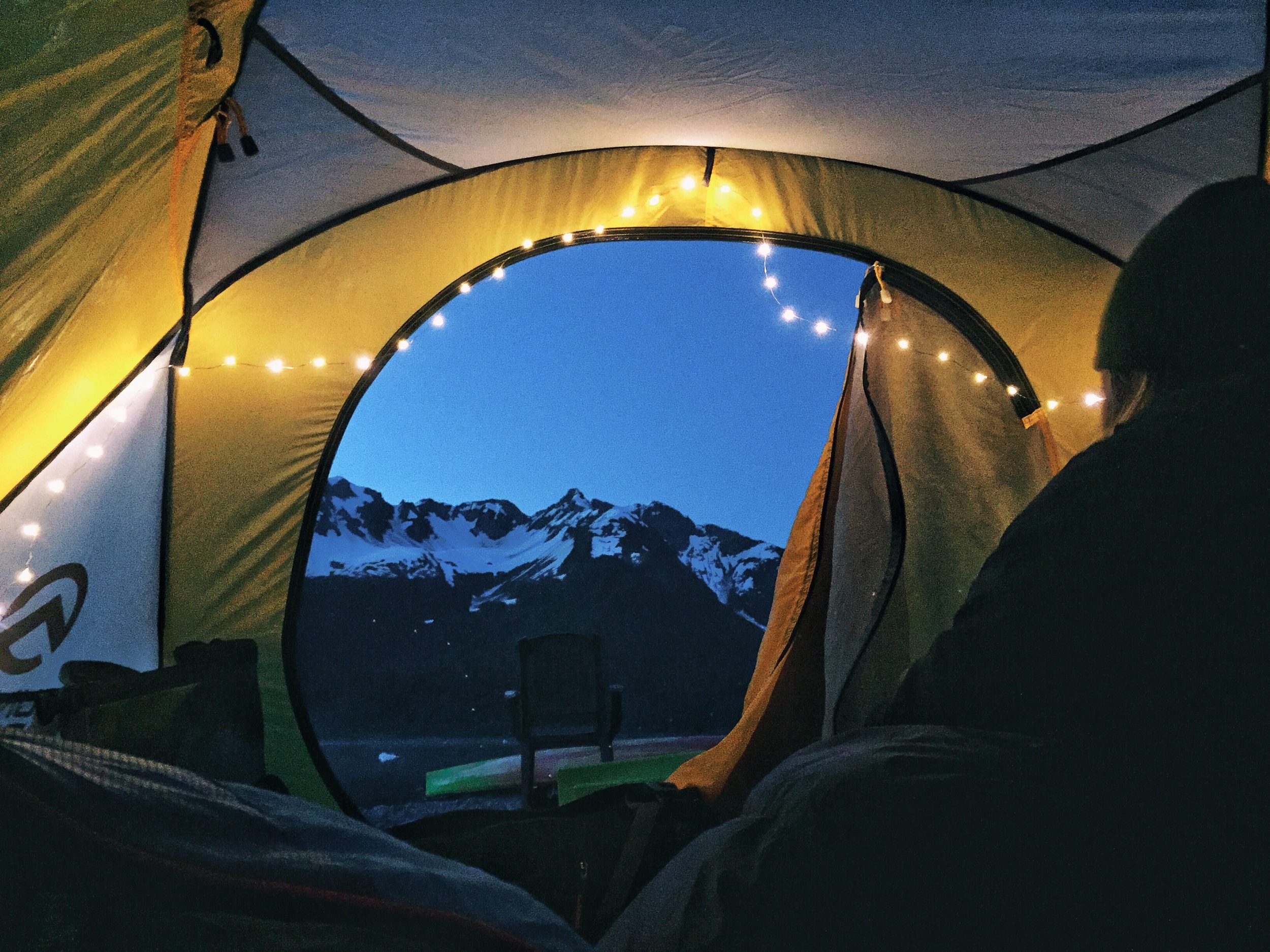 Cooper Landing
After we had our fill in Bear Glacier, we hopped on the water taxi back to Seward and drove down to Cooper Landing for the night in a precious cabin next to the Kenai River with no Wifi. This was probably the only night the sunlight bothered me (the photo below was snapped at 11:15 PM!). For the most part, I was used to the sun not really setting but this particular night was a little challenging, albeit charming. We woke up early the next morning and explored around the Kenai River and took our time getting back up to Anchorage, doing mini hikes, shooting photos and simply enjoying one another's company and the beautiful countryside we were in.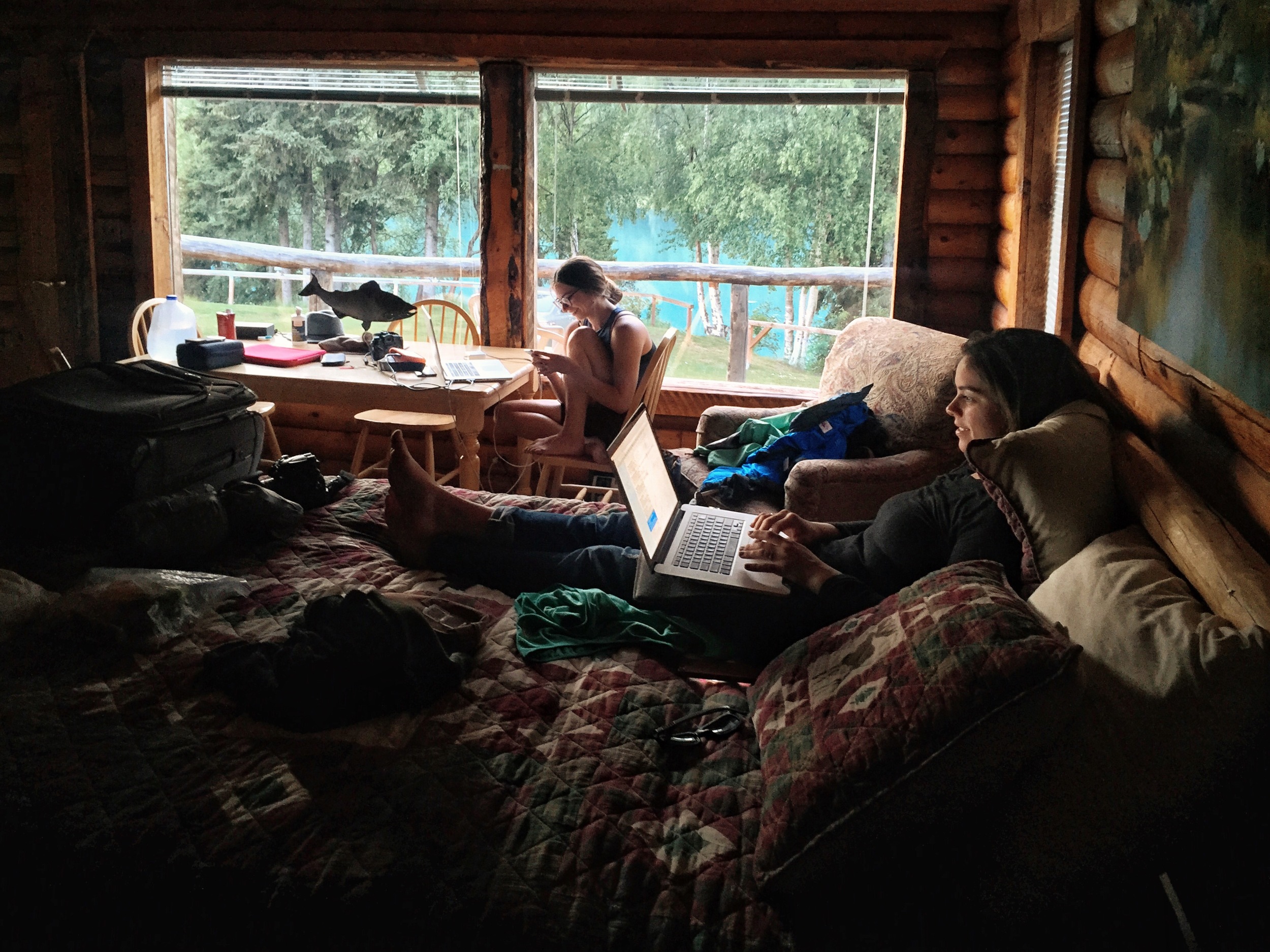 If you are headed to Alaska this summer for a kayak/camping trip, these are a few of my essentials I recommend you NOT go without:
Bear Spray

—

No, we didn't actually encounter a bear but apparently that was incredibly unusual as they are everywhere. You can't fly with bear spray so grab some at REI in Anchorage after you land. Make sure to ask for Heather, who will give you some great hike recommendations!
Teva Original Universal Sandals

—

I loved these; they were a lifesaver all week. The perfect counterpart for the kayak portion of our trip!
Haribo Sour Gummy Bears

—

'nuff said.
Sleep Eye Mask

—

I did not bring this and wish I did!
Down Layers

—

Yes, Alaska gets quite warm in the summertime, but it definitely gets super cold at night, especially if you're camping next to icebergs. Layer up!
Roadtrip Playlist

—

As you won't have service for a lot of the road portion of the trip, radio and Spotify will be hard to access. Create a playlist ahead of time!
Have you been to Alaska in the summertime? Tell me about your experience in the comment section below!
XO LLV